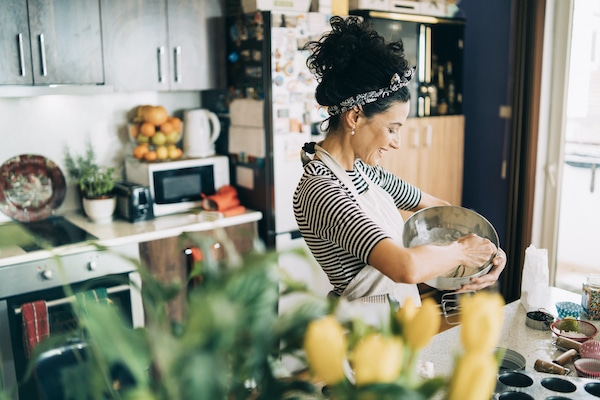 Reviewed By: Dr. Douglas Lord
Menopause can be diagnosed 12 months after a woman's menstrual cycle ends. Symptoms of menopause can start months or years in advance, and may continue for months or years after the diagnosis. Symptoms of menopause can vary, but one of the primary causes of the symptoms is loss of estrogen. As estrogen declines, you may experience problems like hot flashes, night sweats, increased anxiety, pain during intercourse and increased need to urinate.
Many women seek bioidentical hormone replacement therapy to curb their symptoms and help them normalize their body. Sometimes making lifestyle changes can help regulate hormones in the body as well. Eating the right foods can help.
Some foods contain compounds called phytoestrogens. These plant-based compounds function much like the estrogen found in humans and animals. Eating estrogen rich foods for menopause can help you restore some levels of estrogen, which can decrease symptoms and reduce risk of certain conditions that can occur when estrogen levels drop. So with that, we will now show you a list of Estrogen Rich Foods for Menopause.
Which Foods Contain Phytoestrogens?
Foods that contain phytoestrogens include:
Soybeans and edamame
Flax seeds
Dried fruit
Berries
Garlic
Sesame seeds
Broccoli
Peaches
Wheat bran
Cauliflower
Cabbage
Brussels sprouts
Tempeh
Basically any recipe that you make that contains these foods can help restore some estrogen to your body. For more estrogen rich foods, talk to your doctor. Your doctor can recommend foods that meet your unique dietary requirements. Below, we've listed a few easy recipes to consider adding to your regular meal rotation.
Which Recipes Go In My Menopause Cookbook?

Baked Broccoli and Cauliflower
Ingredients:
Broccoli – 1 head
Cauliflower – 1/2 head
Garlic – 3-4 cloves, crushed
Olive oil – a few tablespoons
Salt and pepper – 1 pinch
Preheat the oven to 375 degrees. Chop broccoli and cauliflower and combine with garlic. Drizzle with olive oil. Sprinkle salt and pepper. Bake in a casserole dish for 30 – 40 minutes.
Sautéed Brussels Sprouts
Ingredients:
Brussels sprouts cut in half – 10-15 sprouts
Garlic – 3-4 cloves, crushed
Olive oil – 2-3 tablespoons
Salt and pepper to taste
Heat a skillet with olive oil, then place Brussels sprouts cut-side down in the olive oil. Cook on medium heat for 5 minutes until the Brussels sprouts have begun to brown. Add garlic to the olive oil and flip Brussels sprouts. Place a lid on the skillet and allow to cook until Brussels sprouts are cooked but not soggy, about 5 minutes. Sprinkle with salt and pepper and serve. And this is perfect for women looking for estrogen rich foods for menopause.

Peach, Raspberry and Flaxseed Yogurt Smoothie
Ingredients:
Milk – 2/3 cup
Peach – 1, peeled and diced
Raspberries – 5-10
Flaxseed oil – 2 tablespoons
Vanilla yogurt – 1 cup
Mix all ingredients together in a blender and serve.
What Foods Should I Avoid During Menopause?
Just as some foods can help your body during menopause, other foods can exacerbate symptoms. Avoid fatty meats, caffeine, alcohol and fast or processed foods. Spicy foods can worsen hot flashes, so avoid hot peppers.
What Are the Best Drinks for Menopause?
It's not just foods that can help with menopause, drinks can curb symptoms as well. Caffeine-free green tea strengthens your bone metabolism and decreases risk of bone injuries. Valerian root tea can stop some hot flashes, while ginseng tea can reduce hot flashes and night sweats. Black cohosh root tea reduces vaginal dryness. When choosing a tea, always look for the caffeine-free versions.
Bioidentical Hormone Replacement Regulates Hormone Changes
Menopause is a major change, and the symptoms cannot be stopped with diet alone. Estrogen replacement therapy can help you control and regulate hormone changes in your body. BHRT is reliable and effective. Thanks to bioidentical hormone replacement therapy for women, you can avoid some of the worst symptoms and reduce your risk of the conditions that can occur because of menopause.
To get started with bioidentical hormone replacement therapy, make an online appointment with Nava Health and Vitality Center. During your appointment, we'll discuss your symptoms and design a custom-treatment that's suitable for your needs.
Sources:
Contact Nava Health and Vitality Center About Bioidentical Hormones and Weight Loss
Hormones and weight gain after 40 can go through rapid changes. The best HRT for menopause and natural aging should be administered by someone who is experienced in the medical field and who understands the body's hormones. Call Nava Health and Vitality Center today or make an online appointment.