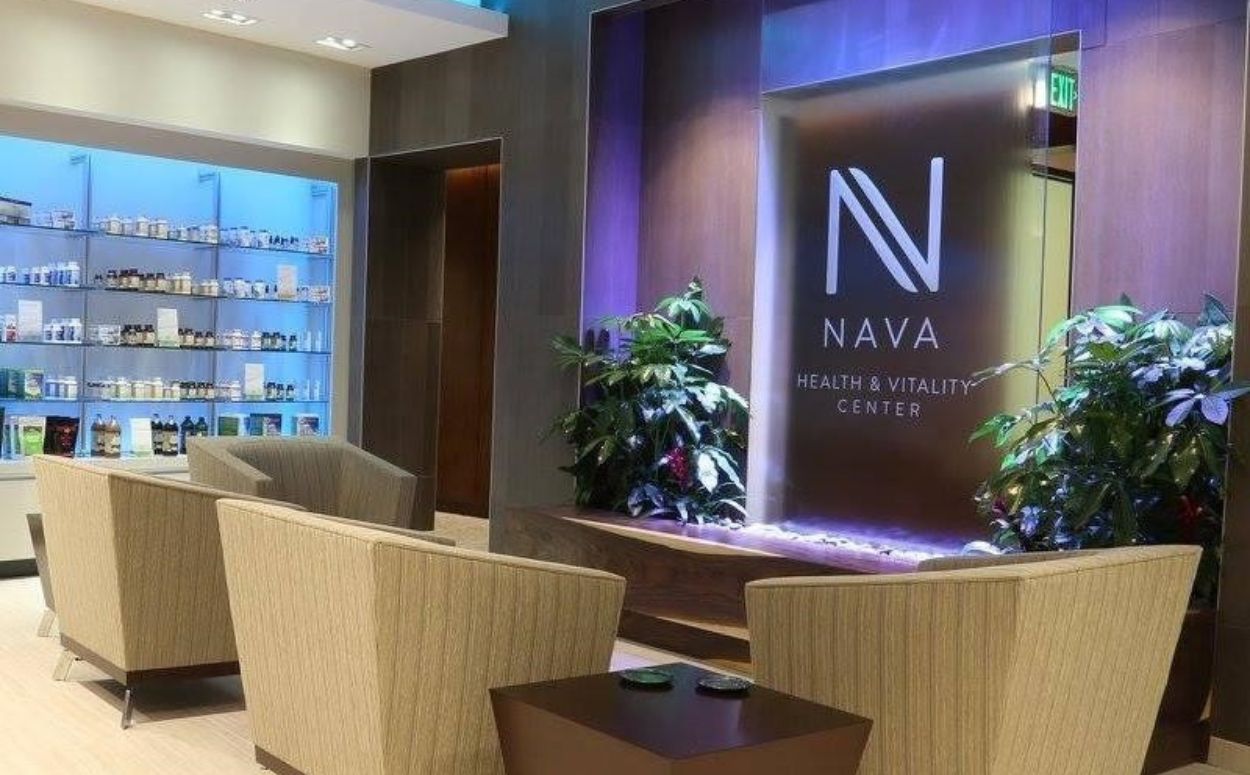 PRESS RELEASE
Leading Integrative Health & Wellness provider Nava Health Opens Fourth Location in Ashburn, VA
We are integrating Traditional, Holistic, and Science-based approaches to healthcare with a Focus on Prevention and Root Cause Medicine.  
ASHBURN, VA – September 19th, 2022 – Nava Health, a vertically integrated healthcare practice, is excited to announce the opening of its fourth location in Ashburn, Virginia. The Ashburn address is 43670 Greenway Corporate Drive, Unit 122. This is Nava Health's second location in Northern Virginia. Nava Health also has two locations in Maryland.    
Bernie Dancel, the CEO and founder of Nava Health, said, "The new, 3100 square foot location will help meet the growing consumer demand for integrative and holistic health solutions." Dancel adds, "People are taking charge of their health and are looking for new approaches that provide more than the standard care received at their primary care doctor's office. They don't want only to treat their symptoms but to prevent illness altogether." 
A 2020 Deloitte Center for Health Solutions survey shows that a top priority for today's consumers is a collaborative healthcare experience with more personalized solutions.[1] 
The increase in consumer activation and advocation in managing their health coincides with increases in the percentage of U.S. adults diagnosed with one or more chronic conditions. [2] Six in ten Americans live with chronic diseases like heart disease, diabetes, stroke, and arthritis. [3] 90% of the U.S. $4.1 trillion health care expenses are for people with chronic and mental health conditions. [4] 
Nava focuses on problems common to individuals with chronic disease and provides customized treatment plans. In addition, Nava specializes in root cause medicine, championing preventative therapies, services, and products to preserve health and increase longevity. Dancel explains, "The Nava 5 encompasses hormone balance, sexual health, stress management, healthy weight and gut health, inflammation control, and restorative sleep. For anyone 35+, you are likely dealing with at least one of these issues routinely and, as you age, most of them, but you don't have to settle for feeling less than 100%."  
The Nava 5 correlates to the leading symptoms associated with chronic illness, as reported by our clients. These symptoms include: 
Hormone Imbalance/ Issues

 

Chronic Fatigue/ Low Energy

 

Weight Gain/ Obesity

 

Sleep Issues/ Insomnia

 

Digestive Issues

 
Brain Function/ Memory and Focus Issues

 

Chronic Pain

 

Low Libido/ Sex Drive

 

Anxiety/ Mood/ Stress/ Depression

 
Nava gives its clients access to premium medical doctors and complementary therapies within the construct of a cohesive and personalized plan designed to help them achieve their health and longevity goals. Nava Health employs highly trained practitioners licensed, certified, and credentialed in their specialty to assure the highest standards of practice. And a cornerstone of the Nava experience is the cultivation of the partnership between the Nava team of practitioners and the client. Nava's unique collaborative approach focuses on treating the whole person and not a single-minded path to wellness.  
Premium Therapies and Services include:  
Hormone Therapy, including Bio-identical Hormone Replacement (BHRT), Thyroid & Adrenal Testing, and Therapies.

 

We offer Regenerative therapies such as Sexual Health and Erectile Dysfunction, Peptide, Massage, Acupuncture, Hyperbaric Oxygen Therapies, and Equiscope Therapies. 

 
Nava specializes in Functional Nutrition, offering medically supervised weight loss and Nutrition Counseling. In addition, we offer Food Sensitivity & Intolerance Testing, including Metabolomix and Gut Restore.

 

A robust series of IV Therapies are available. 

 

And, because we believe in treating the whole person, we offer several cutting-edge Aesthetics treatments to help you feel and look your best.

 
Nava Health in Ashburn is ready to begin scheduling clients for appointments as early as October 10th, 2022.   
Ashburn residents are invited to check out the new location during our open house on Wednesday, October 26th, where we will demo some of our therapies and services. For more information or to schedule your appointment, visit https://www.navacenter.com/ or call (800) 762 – 6282. 
About Nava Health: Nava Health was started in 2012 by Bernie Dancel, an entrepreneur with a proven track record of success across the technology and financial services industries. Bernie began his journey to transform the healthcare industry after witnessing firsthand the dysfunction and siloed treatment paths available via traditional medicine. Understanding the value of technology and the lack of advancement in conventional medicine patient care, Bernie created Nava Health to provide integrated and personalized options for people seeking solutions beyond a prescription. 
Press Contact: 
Suzanne Coblentz 
Chief Marketing Officer at Nava Health 
Scoblentz@navacenter.com 
Sources: 
https://www2.deloitte.com/us/en/insights/industry/health-care/consumer-health-trends.html

 
Buttorff C, Ruder T, Bauman M. 

Multiple Chronic Conditions in the United States [PDF -393kb]

 Santa Monica, CA: Rand Corp.; 2017.

 
National Health Expenditure Data: Historical. Center for Medicare & Medicaid Services. December 15, 2021. Accessed May 5, 2022. 

https://www.cms.gov/Research-Statistics-Data-and-Systems/Statistics-Trends-and-Reports/NationalHealthExpendData/NationalHealthAccountsHistorical