The Nava Method™ was developed by our world class Directors of Integrative Wellness and is designed to help address:
Fatigue
Weight Gain
Brain Fog
Anxiety
Low Libido
Insomnia
Menopause Symptoms
Digestive Issues
Arthritis
Fibromyalgia
Crohn's Disease
Chronic Pain

A Custom Vitality Plan
to help live your life at 100%

The Nava Method: The Nava 5
Our approach to total wellness is customized for each of our clients using The Nava 5 for total wellness:
Hormone Balance & Sexual Health
Stress Management & Life Balance
Healthy Weight & Digestion
Inflammation Control
Restorative Sleep
By optimizing The Nava 5, you will be able to achieve your best overall wellness and find a healthy life balance.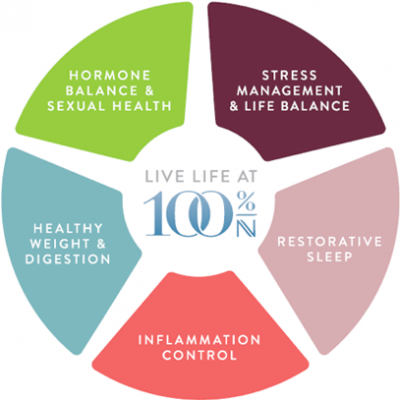 3 step process

Advanced Wellness Assessment
30 Minutes with a Nava Integrative Practitioner
During this visit you'll discuss your medical history and answer a series of proprietary questions to help us understand your current lifestyle and wellness goals. This information is uniquely yours and is crucial to getting an accurate picture specific to your individual needs. By properly pinpointing your symptoms and the areas that need improvement, we are able to help guide you to a more balanced life.

Advanced Biophysical Testing
Lab Work Drawn During Step 1
Nava's comprehensive lab work, which is drawn right in our center, surpasses any regular yearly exam from your primary care physician. Nava measures up to 600 bio-chemical markers and is the key to optimizing and identifying the root cause of any symptoms and conditions you may be experiencing. This inclusive panel tests for:
Advanced sex hormones which can lead to signs of aging and age-related diseases
Reproductive panel assessing fertility and the total function of your reproductive health
Comprehensive metabolic panel measuring your sugar (glucose) levels, kidney function, liver function, vital minerals, vitamins, CBC, tumor markers, imbalances and deficiencies, signs of inflammation, food sensitivities and advanced thyroid levels impacting your weight, energy levels, and cognitive function.
* We process your lab work through your insurance at an in-network laboratory. Cash option is also available without insurance.

Comprehensive Wellness Diagnostic
1 Hour with a Nava Medical Practitioner
During this second visit, you'll discuss your lab work results and our recommendations. Get the results you've been looking for in two key parts:
Root Cause Review
We'll give you a full picture of your current health status based on your Advanced Wellness Assessment and Advanced Biophysical Testing. We will discuss the leading cause(s) of your symptom(s) and show you the underlying imbalances and deficiencies that are triggering your conditions.
Custom Vitality Plan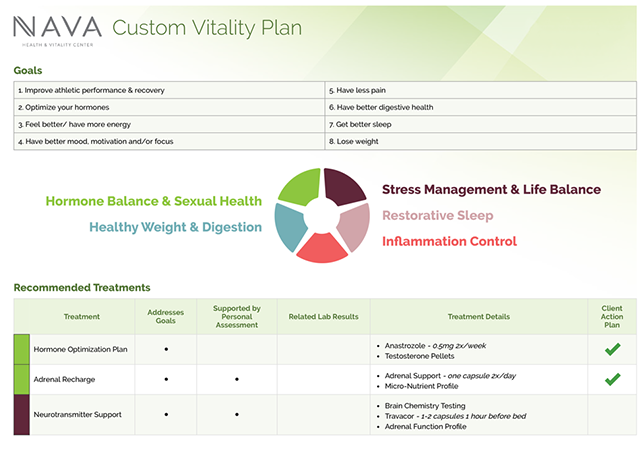 Nava's medical practitioners will work with you to create your evidence-based Custom Vitality Plan that will include a series of recommendations to help achieve your health and wellness goals. You'll leave with a road map to living life at 100%. Your Custom Vitality Plan is designed to correct any imbalance and deficiencies in your body while addressing the root cause of your symptoms by integrating certain services, therapies and nutraceuticals. Our medical practitioners will streamline your experience by managing and coordinating your care while Nava gives you the support you need to achieve your goals.