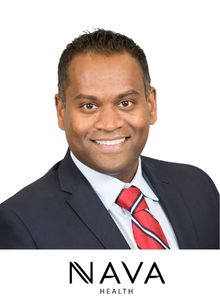 COLUMBIA, MD., August 15th, 2022 – Nava Health, an integrative and functional medical practice with four locations in the Maryland and Northern Virginia region, has welcomed Dr. Joseph Gurrala to its growing practice. 
"Our Nava Health centers serve our growing client base over a large area with telehealth and in-person capabilities," said Bernie Dancel, CEO of Nava Health. "We are excited to welcome Dr. Gurrala to our centers as we expand our ability to give clients in the Baltimore, Washington metropolitan region access to preventive and functional medicine care." 
Dr. Gurrala is a functional medicine physician specializing in anti-aging through the primary mechanisms of bioidentical hormone replacement therapy, diet, and lifestyle modification. In addition, he focuses on hormone therapy, longevity, and holistic treatments to complement an integrative approach to root cause medicine.  
"I am passionate about preventive and regenerative medicine and helping my patients live their healthiest lives for as long as possible," said Dr. Gurrala. "Joining Nava Health is a great fit for me, and I look forward to collaborating with this team of high-caliber functional and integrative medicine experts." 
Dr. Gurrala completed his M.D. with honors at the Royal College of Surgeons in Ireland and his Psychiatry Residency at Georgetown University Hospital in Washington, D.C. 
"Dr. Gurrala's passion for a personalized and preventive approach to healthcare is what we look for in providers joining Nava Health," said Dr. Douglas Lord, Medical Director of Nava Health. 
Dr. Gurrala joins an accomplished team of physicians and modality experts at Nava Health, where we specialize in longevity medicine, chronic conditions, and addressing the root cause of chronic illness.  
Nava Health focuses on advanced wellness treatments including hormone health, weight loss, gut health, IV therapy, hyperbaric oxygen therapy, acupuncture, and premium aesthetics, to provide comprehensive services, creating a one-stop-shop for total wellness.  
For more information on Nava Health, visit www.navacenter.com. 
About Nava Health 
Nava Health is a vertically integrated, tech-enabled healthcare practice combining integrative, functional, preventive, and regenerative medicine. Our innovative medical practice uses a data-driven, personalized approach to optimize health and increase longevity. We provide each client with an individualized wellness roadmap tailored to their specific symptoms, medical needs, and personal goals. All client wellness roadmaps result from a proprietary diagnostic process, the "Nava Method," which utilizes data and specially designed software to create optimal personalized client outcomes. To learn more visit navacenter.com 
Media Contact 
Suzanne Coblentz