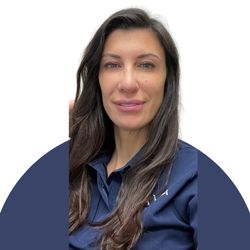 COLUMBIA, MD., October 10, 2022 – Nava Health, a leading brand of integrative and functional medical practices in the Maryland and Northern Virginia region, has welcomed Dr. Maria Mainolfi to its growing team of functional medicine and modality experts. 
"We're excited to continue our growth in the region with increased hours and locations," said Zachary Dancel, chief operating officer at Nava Health. "Dr. Mainolfi is an expert in functional medicine and hormone therapies with additional expertise in premium aesthetics." 
Dr. Mainolfi has over 20 years of experience specializing in internal, preventative, integrative, and aesthetic medicine, hormone replacement, IV infusions, and nutrition. She is focused on prevention and encourages patients to achieve optimal health proactively. 
"Joining Nava Health is an exciting opportunity to have the support of a leader in functional medicine," said Dr. Mainolfi. "The leadership and resources available to us as part of the Nava Health network will allow me to focus on the root cause and better serve our patients." 
Dr. Mainolfi is trained in bioidentical hormone therapy and develops individual protocols for patients, including hormone optimization, supplement support, weight management, and advanced diagnostic testing. 
"We welcome Dr. Mainolfi to Nava Health," said Bernie Dancel, chief executive officer at Nava Health. "Nava is thriving and setting a great example of the quality of functional and integrative medicine now available in the region." 
Dr. Mainolfi is board certified by the American Board of Preventive Medicine and is a member of the American College of Preventive Medicine.   
She received her MD from the University of Maryland School of Medicine and her Master of Public Health from the University of South Florida. In 2018 she trained with Dr. George Gavrila and became a member of AMMG (Age Management Medicine Group); AAFE (American Academy of Facial Esthetics); AAAM (American Academy of Aesthetic Medicine); ASLMS (American Society for Laser Medicine & Surgery).  
She continues to advance her training through various courses provided by some of the most reputable aesthetic companies in the field. In 2021 she trained under the renowned Dr. Whipps, who shared the same compassionate and artfully balanced approach to patients and medicine. 
For more information on Nava Health, visit www.navacenter.com. 
About Nava Health
Nava Health is a vertically integrated, tech-enabled healthcare practice combining integrative, functional, preventive, and regenerative medicine. Our innovative medical practice uses a data-driven, personalized approach to optimize health and increase longevity. We provide each client with an individualized wellness roadmap tailored to their specific symptoms, medical needs, and personal goals. All client wellness roadmaps result from a proprietary diagnostic process, the "Nava Method," which utilizes data and specially designed software to create optimal personalized client outcomes. To learn more visit navacenter.com 
Media Contact 
Suzanne Coblentz