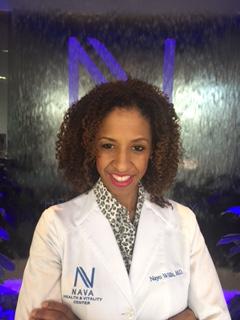 COLUMBIA, MD., February 7th, 2023 – Nava Health, a leading provider of integrative and functional medical practices in the Maryland and Northern Virginia region, announced the promotion of Dr. Nayo Wills to Associate Medical Director.   
"We are delighted to announce Dr. Will's promotion to Associate Medical Director, as she has been integral to our Nava's growth. Her first-hand experience as both a practicing Doctor of internal medicine and a certified functional medicine provider with substantial expertise in developing therapies for the prevention and mitigation of chronic diseases has enabled her to play a crucial role in the development of our clinical strategy and execution," said Dr. Douglas Lord, Medical Director of Nava Health. "We are incredibly pleased to have her continued guidance and leadership in this new role as we work to advance our protocols and continue to innovate in the functional medical space." 
Dr. Wills added, "I'm incredibly excited and motivated by the opportunity that we have to make a meaningful difference for patients suffering from chronic diseases and, to help those who want to take a proactive and preventive stance to mitigate chronic illness before it starts." 
Dr. Wills joined Nava Health as a Practitioner in 2014. Dr. Wills attended Thomas Jefferson College of Medicine for her medical degree, completed her residency at Washington Hospital Center and is board certified in internal medicine and IFM certified in functional medicine.  
For more information on Nava Health, visit www.navacenter.com. 
About Nava Health
Nava Health is a vertically integrated, tech-enabled healthcare practice combining integrative, functional, preventive, and regenerative medicine. Our innovative medical practice uses a data-driven, personalized approach to optimize health and increase longevity. We provide each client with an individualized wellness roadmap tailored to their specific symptoms, medical needs, and personal goals. All client wellness roadmaps result from a proprietary diagnostic process, the "Nava Method," which utilizes data and specially designed software to create optimal personalized client outcomes. To learn more visit navacenter.com 
Media Contact 
Suzanne Coblentz