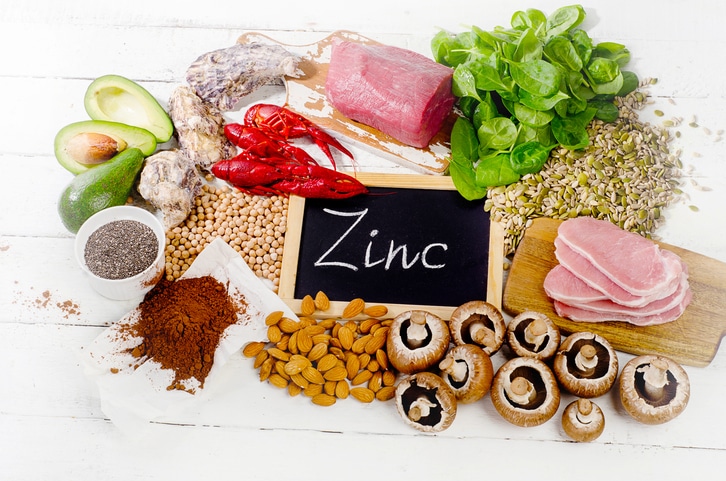 Written By: Director of Nutrition for Nava Health Laura Kelly, MA, MS, CNS, LDN

Boost Your Immune System With Zinc | Benefits and Recipes
Looking for ways to stay healthy while you are staying at home? Feeding your body with the right foods is one of the best ways to do just that.
Here are some tips and recipes on how to boost your health with one of the most important minerals: zinc! So, let's learn how to boost your immune system with Zinc.
If you are looking for more ways to improve your health during these unprecedented times, we also offer video and phone appointments with our nutrition team and medical practitioners.
Call us at 1-800-762-6282 to schedule an appointment to find out other ways Nava can support you in these unprecedented times.
Zinc Health Benefits
Zinc is a potent antiviral and is necessary for wound healing, immune function, eyesight, brain development, as well as the synthesis of testosterone. Research suggests that zinc may prevent viruses from entering cells by binding with a protein that normally facilitates such entry. Zinc also decreases inflammatory substances called cytokines. This can help reduce the risk of secondary infections and reduces the duration of the illness.
Best Zinc Supplement
NAVA Select, our daily supplement pack, is a custom-formulated, premium grade nutraceutical blend that includes zinc as well as other important nutrients for immune system support. You can order on our website or give us a call and we can ship it to you. https://www.navacenter.com/products/browse-all/nava-select
Top 10 Foods High in Zinc
Oysters
Beef
Pork
Crab
Beans
Chicken
Pumpkin Seeds
Cashews
Chickpeas
Oatmeal
** Foods such as peas, mushrooms, broccoli, kale, and garlic are also good sources.
Easy High Zinc Recipes
Oatmeal Cashew Energy Bites
Ingredients:
Cashew Butter
Pure maple syrup
Vanilla extract
Oat flour
Quick cooking oats
Chocolate Chips
Directions:
Step 1: If making my homemade chai spice blend, combine the spices into a bowl and stir well. Set aside.
Step 2: To a large bowl, combine the almond butter, syrup and vanilla and stir until smooth.
Step 3: Stir in the chai spice and salt.
Step 4: Stir in the oats and oat flour until the mixture comes together into a very thick and sticky batter.
Step 5: Roll into 1-inch balls. You should get 16, which is how many I got. If you make them larger, obviously you will get less.
Step 6: Let the balls to sit for an hour or so before eating them. Keep them stored in a sealed container either at room temperature or in the fridge. Enjoy!
Chicken Salad with Grapes and Pumpkin Seeds
Ingredients:
1 cup cooked cubed roasted chicken breast
½ cup chopped grapes
1 tbsp pumpkin seeds
½ cup chopped celery
1-2 tbsp olive oil based mayonnaise
Salt/pepper to taste
Cucumber slices or large Romaine leaves
Directions:
Step 1: Chop the chicken into cubes and place in the large bowl. Chop the grapes and celery and add to the bowl.
Step 2: Add mayo, salt, and pepper and mix until well blended.
Step 3: Place mixture over sliced cucumbers or inside the lettuce leaves to make a wrap.
Step 4: Sprinkle the pumpkin seeds on top for an extra crunch! Enjoy!
Zinc Information and Resources:
https://ods.od.nih.gov/factsheets/Zinc-HealthProfessional/#h1