How to Stay Healthy On the Road.
We're all busy, but it's time to learn how to stay healthy on the road.
Think about the last time you asked someone, 
"How are you?"
How often was the response, "Oh, I'm SO busy!"?
It's become our automatic, "go to" answer.

We all do it.
Most of us have a lot on our plates and are juggling work, family, friends, chores, finances, and "me time" (if we're lucky!).
Squeezing healthy eating into our busy, on-the-go schedules can be a challenge. And we really are "on the go". In fact, a whopping 19% of American meals are eaten in the car. That's almost 1 in 5!

We need to find solutions for healthy eating that will fit in with our fast-paced lifestyle.
Here are four of my top tips for finding healthy eating options away from home, so you're fueling your body with nourishing food no matter where you are!
1.
 Use
Your Phone! I've found these apps and websites to be particularly helpful when I want to find healthy places to eat no matter where I am! Most of them allow you to search for vegan and vegetarian-friendly places, too. Scope out the menus ahead of time, so you can find
restaurants
that offer at least one healthy option.
b.
Happy Cow (app & website)
c.
Eatwellguide.com (website)
d.
DineGreen.com (website)
2.
 Know
Where to Go. No matter where I am, I've found that I can make do by heading to one of the four places listed below when I'm in a pinch and need a meal or snack.
a.
 Grocery Store
Salad Bars, especially
Whole Foods
, Wegmans, and Natural Food Stores. Try Whole Foods Market's
Health
Starts Here meals in their prepared foods section. They are healthy, delicious and affordable!
b.
 Farmer
's Markets: Use the Food Tripping app to find farmer's markets near where you're traveling or staying and swing by for a fresh, healthy meal or snack.
c.
Juice Bars, Smoothie Places & Cafes: Look for mom and pop shops vs. the chain smoothie places, which tend to load up on sugar in their smoothies.
d.
 Chipotle
, Qdoba, Baja Fresh: It's easier to make a healthier, veggie-heavy choice here than it is at most fast food places. Watch the sodium and avoid the cheese and sour cream, but if you're in a pinch, a burrito bowl or salad is a good option. Sometimes we just want to make a better option, even if it's not the best.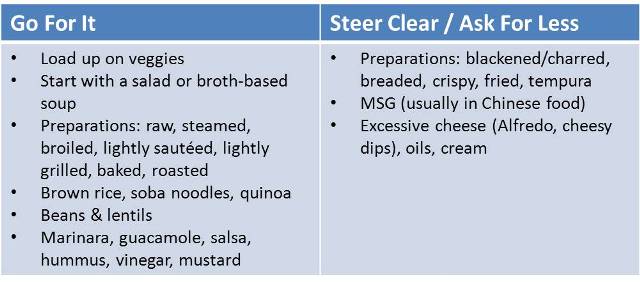 3.
Become a Menu Buzzword Detective…And Know Before You Go. If you get into a situation where you can't do #1 or 2 above, use the handy chart below to help you make the best choices. Don't be shy – no matter where you are, any decent restaurant should be able to serve you a salad with a bean or meat-based protein on top.
4.
BYOS (Bring Your Own Snacks!): Whether I'm traveling to Seattle for a conference, Virginia for a presentation or New York for vacation, I always pack healthy snacks. If I'm not able to pack them ahead of time, I've found many of the snacks below at everywhere from grocery stores and farmer's markets to Target and gas stations (most limited option, of course). You can find pretty much all of these foods at Whole Foods, Wegmans, Roots
Organic
Market, and MOMs Organic Market.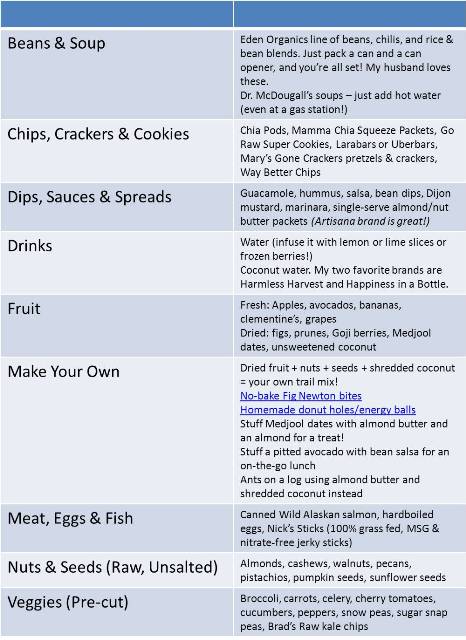 Check out some of these options the next time you're at the grocery store, and add healthy snack packing into your overall traveling routine. We hope you enjoyed learning how to stay healthy on the road.
The more prepared you are, the more likely you will be to make healthy, nourishing, fueling choices!